The Pan African Society (PASCAR) had its beginnings in 1981 in Badagry, Nigeria in response to the total lack of interest in cardiovascular disorders by many health authorities on the continent.

Aims and Objectives set out in 1981 were to:
Promote activities relating to the prevention and treatment of cardiovascular disease
Promote the education and training of cardiovascular disease personnel
Pursue health education programmes relevant to the field of Cardiology
Encourage cardiovascular research by the formation of an African Heart Foundation, which will ultimately fund and coordinate relevant research activities on the continent.
In March 1989, PASCAR underwent several structural modifications including the creation of 5 regional bodies (East, West, Central, North and South).


---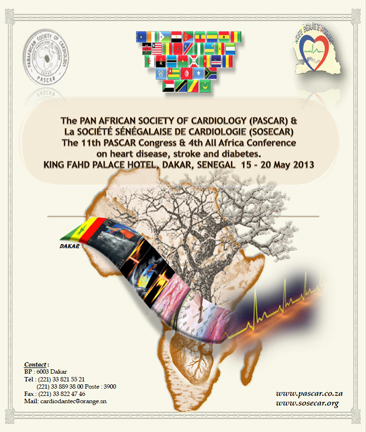 Click here to view the full size
Dear Colleagues at the PASCAR 2011 meeting in Kampala

During this meeting I had the privilege to present our experiences from The Salam Centre for Cardiac Surgery in Khartoum, Sudan. As I said during my presentation, this centre provides totally free-of-charge cardiac surgery to patients from all over Africa.

After my presentation several colleagues asked for more information how to refer patients and also for the possibility to send young doctors for training at the centre.

To do this, please contact the Medical Coordinator of the Centre, Dr Gina Portella (gina@emergency.it), or the Regional Officer for Salam Centre, Ms Eleonora Del Gaudio (regionalofficerkhartoum@emergency.it).

Attached, please find the presentation and the abstract in pdf-format.

All the best

Dan Lindblom MD, PhD, Ass.professor
Karolinska Institutet, Stockholm, Sweden
and
Consultant Cardiac Surgeon at The Salam Centre